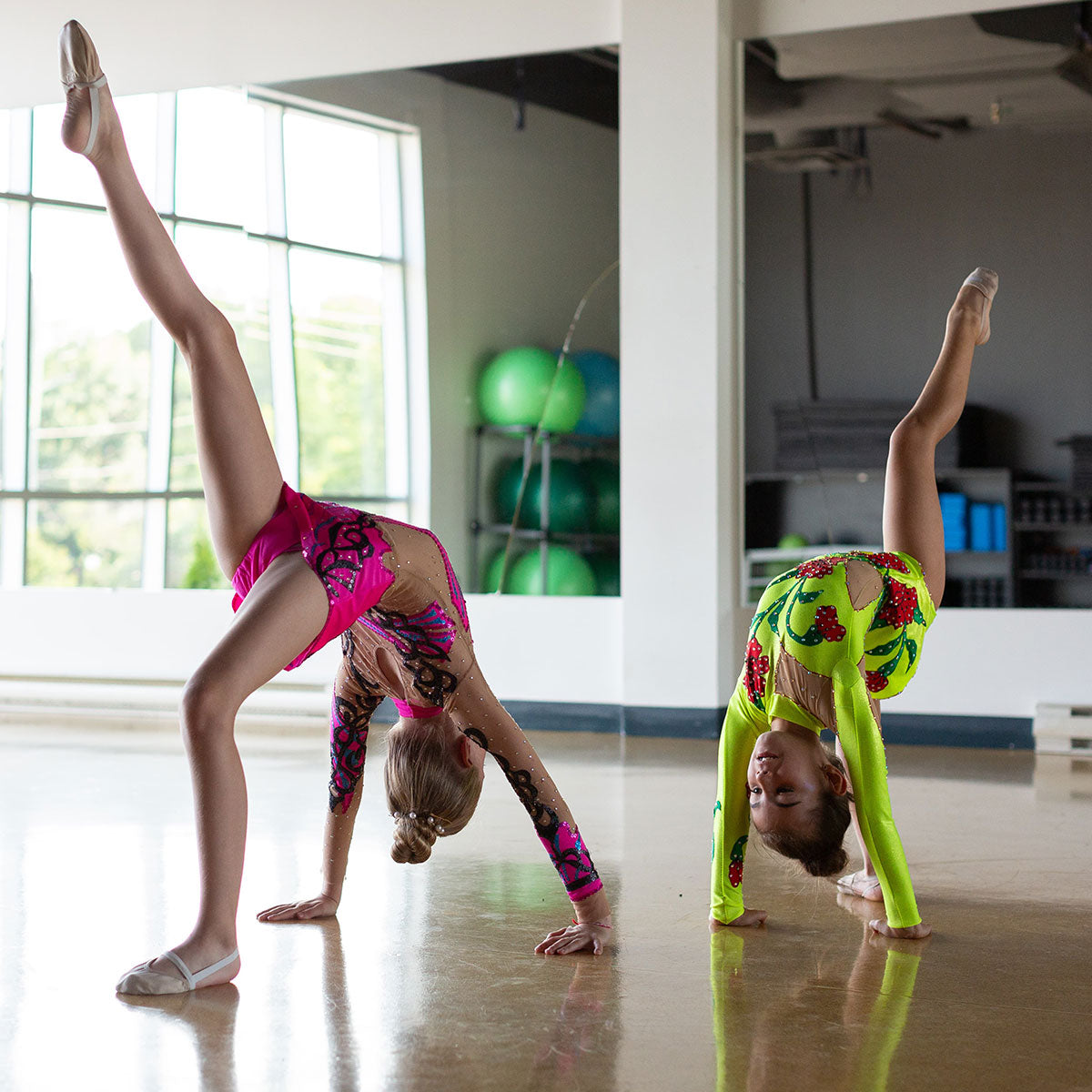 Rhythmic Gymnastics classes for ages 2-16
Unlocking Potential Through Rhythmic Gymnastics: Your Journey starts here!
An Olympic discipline that combines the grace of ballet and dance with the precision of gymnastics. It's where athleticism and artistry unite to create a captivating performances.
our program develop flexibility, agility, and coordination, providing a robust physical foundation for athletes to flourish.
Beyond the physical realm, our gymnasts also master valuable life skills such as goal-setting, time management, and resilience.
A Symphony of Apparatuses: Rope, Ball, Hoop, Clubs, and Ribbon
Each class our gymnasts get to learn and have fun using the different apparatuses individually and in groups!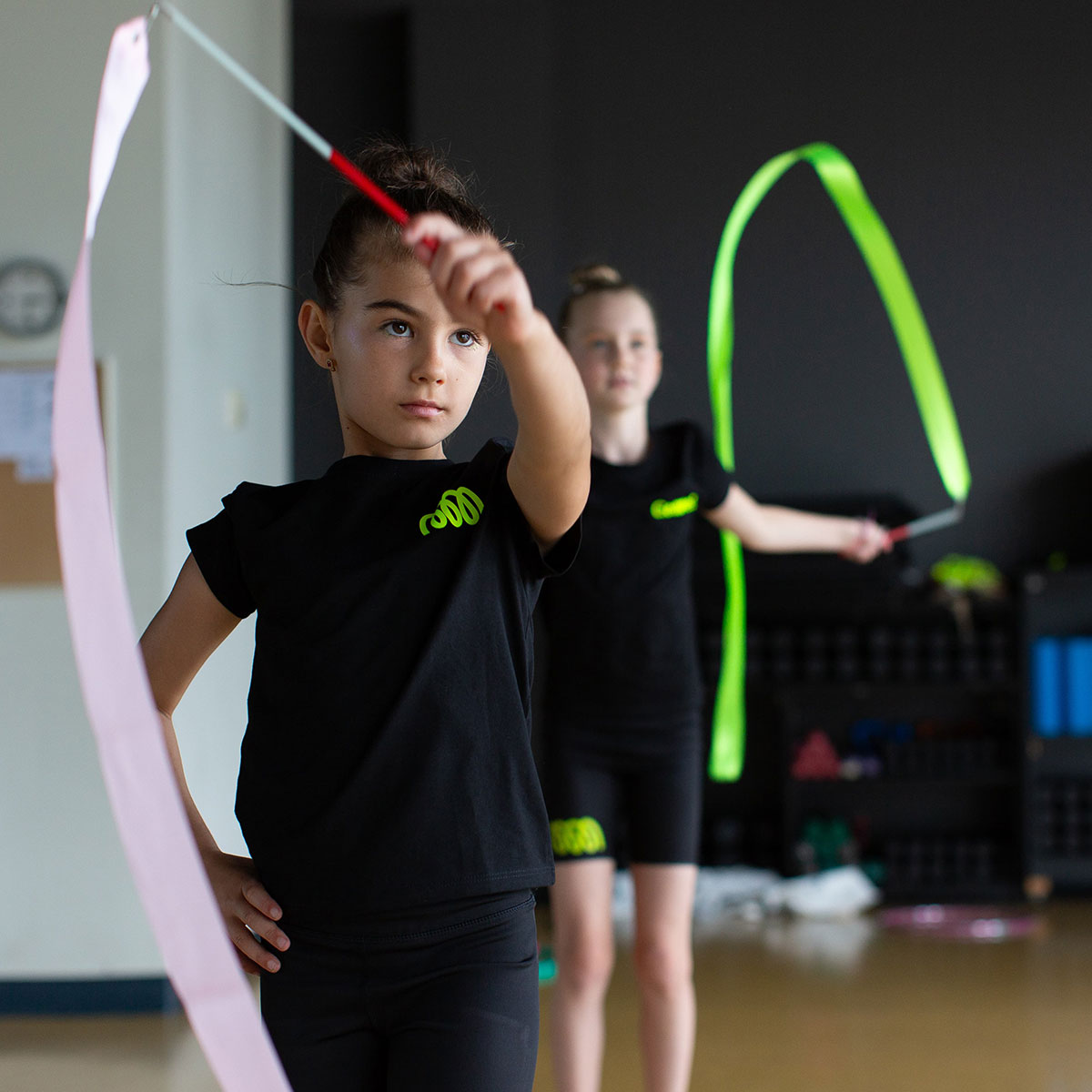 What sets us apart?
Attentive coaching- Small classes and tailored program for beginner level that build self confidence and encourages to unlock their potential.
Opportunity to grow: Affiliated to Gymnastique Quebec we aspire to recognize passionate gymnasts that want to grow to competitive levels. Stay tuned - for more information regarding pre-competitive team.
Encouraging environment- Practices are a safe space for athletes to challenge themselves and express themselves artistically. Where they develop long lasting friendships and unlock their potential by pursuing their passion.
Ready to embark on this incredible journey of physical and personal growth? Click Here to explore the available classes.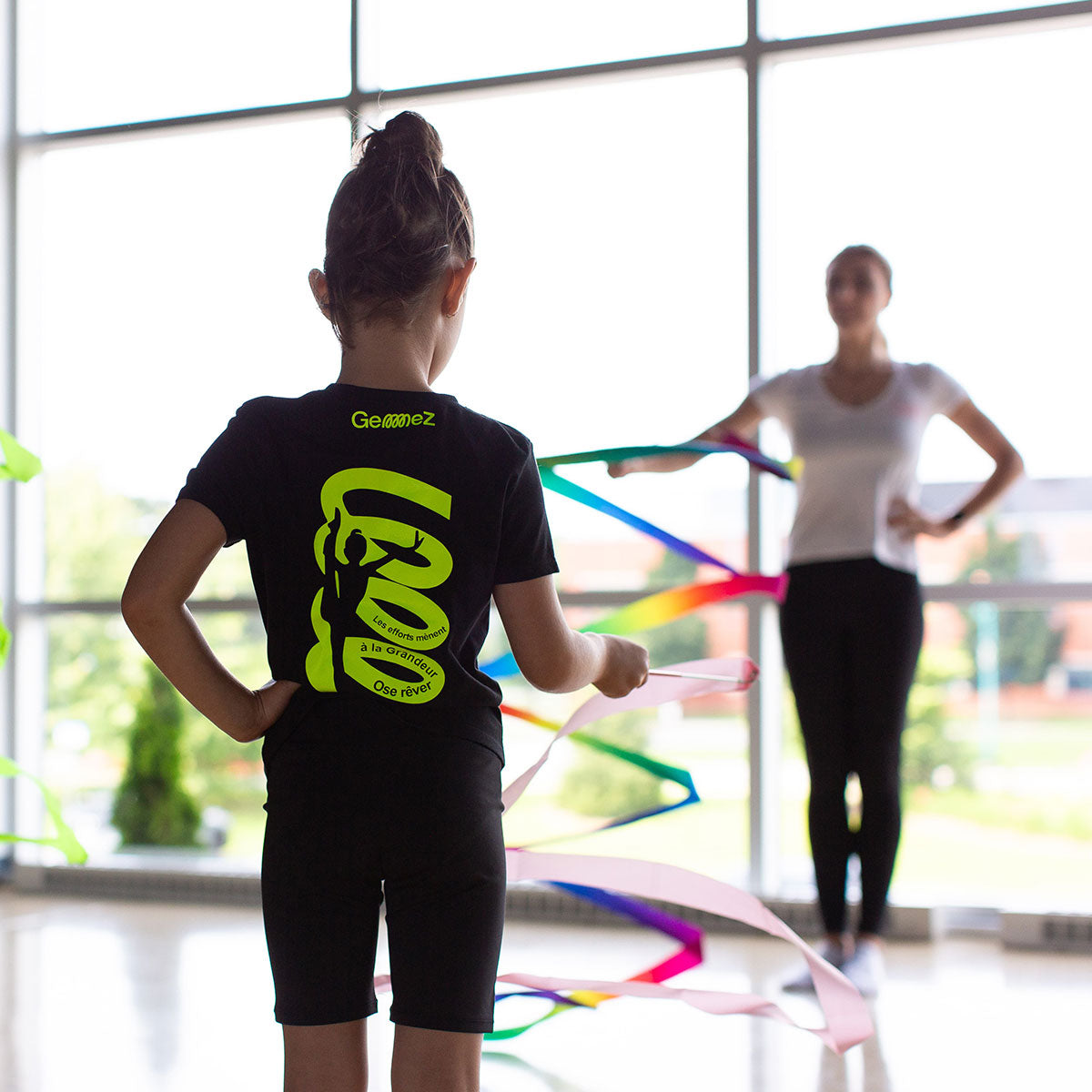 Celebrating Progress and Elevating Potential
We believe in recognizing and celebrating the remarkable journey of our gymnasts. That's why, at the end of each season, we present shows to showcase their progress to their adoring families.
Setting Goals, Inspiring Growth
Our season-end shows provide our athletes with a clear set of goals for each season. This gives them something to aspire to, motivating them to improve and showcase their progress. It's a tangible target that drives their dedication and commitment.
Experience the Spotlight
Performing in front of an audience is a valuable experience for our gymnasts. It builds confidence, teaches them to manage nerves, and instills a sense of accomplishment. It's not just about the performance; it's about personal growth.
Click here to get information regarding our Fall season Show!
Your Coach, Your Partner in Excellence
Hi, I'm Maori Murciano, the head coach and founder of Gemmez Academy of Excellence. I'm not just here to tell you my story; I'm here to become part of your child's story, and I come equipped with the experience, qualifications and dedication to invest in your athlete's growth.

A Journey of Dedication

My journey in rhythmic gymnastics started at a young age and evolved into a lifelong passion. I became a professional gymnast, competing on the international stage. I wanted to channel my experience and passion into something more—to give back and make a positive different.

Certified and Committed

I hold a BA in Psychology from McGill University, a field that has given me invaluable insights into the mental and emotional aspects of sports and personal development. I am also a certified coach recognized by the National Program of Coaching Certification in Canada (PNCE).
Empowering Young Athletes
I've had the privilege of coaching incredible young talents and witnessing their remarkable growth, not only as athletes but as individuals. The moment a gymnast realizes their own potential is a profound one. It's a moment that fuels my passion and reaffirms my belief that we are not just building champions in the gym; we are building champions in life.
Join us today, and together, we'll create moments of growth, pride, and achievement that will last a lifetime!
Ready to join our Rhythmic family?
At our academy, we don't just focus on gymnastics routines and skills; we nurture the development of well-rounded athletes. Our coaching philosophy is built on empowering young athletes with self-confidence, resilience, and a belief in their own potential—skills that extend far beyond the sport.
Our Location
1850 Rues des Loisirs, Saint-Lazare, QC